Samsung unveils crazy-fast 960 Pro and 960 Evo M.2 NVMe SSDs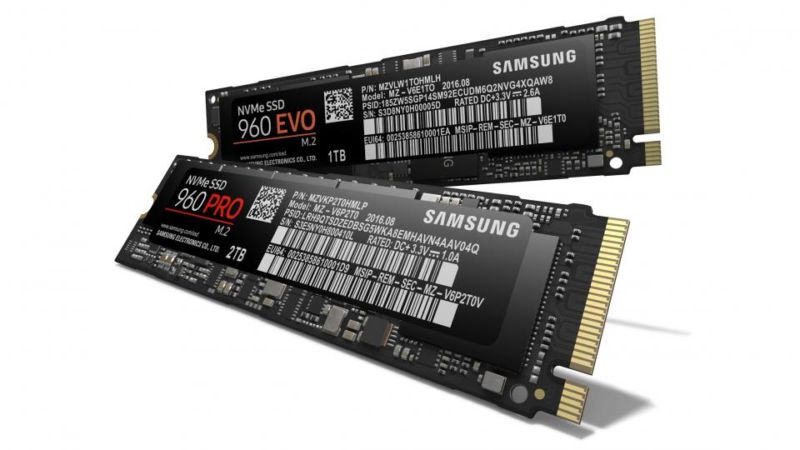 Samsung has unveiled its next generation M.2 PCIe SSDs, the 960 PRO and 960 Evo. Like the
950 Pro
, which was released last year, the 960 Pro and 960 Evo are PCIe 3.0 x4 drives that use the latest NVMe protocol for data transfer.
As you'd expect, both are faster: the 960 Pro offers a blistering peak read speed of 3.5GB/s and a peak write speed of 2.1GB/s, while the Evo offers 3.2GB/s and 1.9GB/s respectively. The 950 topped out at a mere 2.5GB/s and 1.5GB/s.
The 960 Pro and the 960 Evo are due for release in October. The Pro starts at $329 for 512GB of storage, rising up to a cool $1,299 for a 2TB version. The Evo is a little lighter on the wallet, starting at $129 for a 250GB version, rising to $479 for a 1TB version. UK pricing is yet to be confirmed, but a 512GB 950 Pro currently retails for around £300.
Both the Pro and the Evo use Samsung's brand new Polaris controller (not to be confused with
AMD's Polaris
graphics architecture), which features a five-core chip rather than the three-core chip used in the 950 Pro. One of the five cores on the controller is dedicated to host communication, while the other four cores are used for flash management.
Both drives also use Samsung's latest 3D V-NAND tech, which allows it to dramatically increase the number of layers present on each NAND flash module by stacking them vertically, thus increasing capacity without having to reduce the size of the fabrication process. The 950 Pro featured 32-layer NAND, but the 960 Pro and Evo get a bump to 48-layers, enabling Samsung to offer the spacious 2TB version.

The key difference between the Pro and the Evo is the type of NAND used: the Pro uses MLC V-NAND, while the Evo uses the cheaper and more tightly packed TLC V-NAND. Random read performance (4KB QD32) on the 512GB 960 Pro is up to 330K IOPS (Input/Output Operations Per Second), with write speeds of up to 330K IOPS. Larger capacities bump that to 440K IOPS and 360k IOPS.
Random read performance on the 256GB 960 Evo is 330K IOPS, with write speeds of up to 300K IOPS. Larger capacities bump that to 380K IOPS and 360k IOPS.
Power draw details for either drive aren't available just yet, but Samsung claims that thermal throttling is less of an issue. The 960 PRO supposedly lasts 50 percent longer before throttling on a sequential read test. According to
Anandtech
, the performance improvement is partly down to a simple copper sticker placed on one side of the drive, which a Samsung engineer claimed accounted for about 30 percent of the improved thermal performance.
The 960 Pro comes with the same five-year warranty as the 950, or up to 1.2PB written, depending on capacity, while the Evo comes with a mere three-year warranty, or up to 400TB written.