SoCal utility will buy 80MWh of battery storage from Tesla after methane leak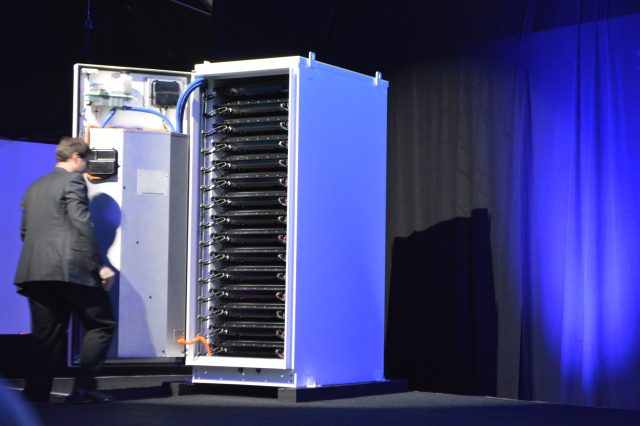 The Aliso Canyon leak was the
second-largest methane leak
in US history, but it was far more damaging to the environment than the largest methane release, which happened in Texas in 2004. The Texas methane leak occurred when a natural gas storage facility collapsed, but a subsequent fire turned much of the escaping methane into carbon dioxide as it burned up. Carbon dioxide, while a pollutant, is considered less polluting than methane, which is a much more potent greenhouse gas in the short-term.
The battery and electric car company said that it would deliver the 80MWh Powerpack system before the end of the year, when it will be installed at Southern California Edison's Mira Loma substation. Regulators closed the Aliso Canyon Facility after its leaking well was plugged in February, four months after the leak began. But Aliso Canyon was the largest natural gas storage facility in California, and its closure has utilities and lawmakers worried that there will be shortages come winter.
"Upon completion, this system will be the largest lithium ion battery storage project in the world," Tesla wrote. "When fully charged, this system will hold enough energy to power more than 2,500 households for a day or charge 1,000 Tesla vehicles." The company said that no other battery provider was awarded a contract in the bidding process.
Until recently, batteries were not considered an important part of utility grid operations. But as policy has pushed grid owners to adopt more renewable energy, storing that energy (which can be intermittent due to the nature of sun and wind power) has become more popular. Batteries are also useful in energy production to provide a buffer if a utility wants to hold off in turning on a generator for a short period of time, or batteries can help with so-called frequency transients, keeping a station's electricity output at the required voltage while the station manager gears up a new generator. In California, the Public Utility Commissioner has mandated that utilities install 1.3 gigawatts of battery storage by 2020.
Tesla wrote on Thursday:
In order to achieve a sustainable energy future, one which has high penetration of solar and electric vehicles, the world needs a two-way, flexible electric grid. The electric power industry is the last great industry which has not seen the revolutionary effects of storage. Working in close collaboration with Southern California Edison, the Tesla Powerpack system will be a landmark project that truly heralds the new age of storage on the electric grid.