Inside a Billionaire's Plot to Overthrow His Brother


Billionaire Shin Dong-joo has reason to be bitter. In the past couple of years, he's been suspended by his father, fired by his younger brother and indicted on charges of embezzlement by South Korean prosecutors.
Yet the former No. 2 at
Lotte Group
says he's confident he'll clear his name in court, overthrow his brother as chairman and seize control of a business empire that generates more revenue than Google Inc. or Airbus Group. His plan is to take advantage of the group's complex network of more than 70 cross shareholdings. If he can gain the votes of minority shareholders in one Japanese unit that binds the whole conglomerate together, he says he can effectively control the group.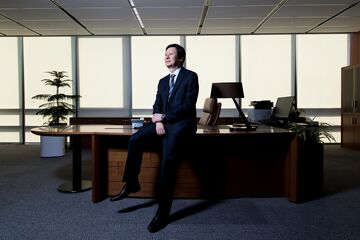 "My final target is to take control of Lotte," Shin, 62, said in his office in Seoul in his first interview with foreign media. "My brother and the current management destroyed (Lotte's) good corporate culture."
Shin is attempting to pull off a unique coup in Korean corporate history -- the takeover of one of the country's giant family-run business groups, known as the chaebol. If he succeeds, he'll take charge of the nation's largest chain of shopping malls, duty-free stores, hotels and amusement parks, one whose overseas assets include Guylian Belgian chocolates and New York's Palace Hotel.
Coup Attempts
It's a big if. His brother Shin Dong-bin, chairman of Lotte Group, outguns him in terms of resources and has already fended off numerous coup attempts. The brothers' given names will be used in this article for clarity.
"No coup has ever succeeded among the chaebol,'' said Chung Sun-sup, CEO of Chaebul.com, a website that tracks the chaebol. He said Dong-joo's best chance would be if his brother was convicted as a result of the investigation this year into corruption at the company. Dong-joo has also been charged but both brothers deny the allegations.
Meanwhile, the family feud is hurting Lotte and has added another stain to the embattled reputation of the chaebol groups this year, which have already suffered the bankruptcy of
Hanjin Shipping Co.
,
Samsung Electronics Co.
's exploding phones and an influence-peddling scandal that cost President Park Geun-hye her job.
The battle at Lotte is among the fiercest corporate power struggles in Asia -- rivaling the brawl raging atop India's
Tata Group
-- as some of the region's biggest dynasties undergo a once-in-a-generation leadership change.
Lotte was founded seven decades ago by Shin Kyuk-ho in Japan, where he had earlier attended Waseda University. He started out selling chewing gum and built a business empire in Japan and Korea. The two brothers grew up together in Japan, with the elder learning to run the Japanese units and the younger taking charge of the Korean part.
The trouble began when the ailing patriarch, now 94, fired his eldest son Dong-joo in January 2015 and took away some of his voting rights. Dong-joo says he was removed because the president of Lotte Holdings, Takayuki Tsukuda, falsely told his father that he was responsible for causing losses. Dong-joo said the accusations were part of a plan to wrest control of the company.
Father's Forgiveness
"The first thing for me to do was to persuade my father about the real situation," Dong-joo said. "It took several months to change his mind."
He did. In July 2015, the patriarch flew to Tokyo to overturn the dismissal but was thwarted when Dong-bin, Tsukuda and Chief Financial Officer Masamoto Kobayashi refused to meet him, according to a copy of testimony Dong-joo gave to Korean prosecutors earlier this year. The next day, the trio called an emergency board meeting and ousted the group's founder as the head of Lotte Holdings.
Lotte Holdings declined to comment on any of the ousted executive's allegations and wouldn't make Tsukuda or Kobayashi available for comment.
Lotte Group said in a statement to Bloomberg News that Dong-joo was fired because he made unauthorized investments in a software venture that led to about 1 billion yen ($8.7 million) in losses. Lotte Chairman Dong-bin, 61, wasn't available for an interview, the group said.
"To insist one should be able to reclaim the company just because he's the owner's son shows he has an outdated perspective and sees the company as a personal belonging" Lotte said. Dong-joo is "remorseless and lacks managerial competence," according to the statement.
China Expansion
Dong-joo said his brother is the one who is shortsighted. Dong-bin should be blamed for changing Lotte's culture to one where managers constantly fear getting fired, he said. He also blamed Dong-bin's expansion in China for what he estimated to be 2.4 trillion won ($2.1 billion) in losses for the group.
"The best players come to China and fight like at the Olympics," Dong-joo said in an interview in the Gran Seoul building, a block away from Lotte's headquarters in the South Korean capital. "The current management team underestimated the situation."
Timeline of events that have roiled Lotte's Shin family
Lotte couldn't confirm the amount of the China losses. It said that Dong-bin is a proven leader who increased the group's annual sales to about 90 trillion won, from 26 trillion won in 2004, and pushed for the listing of Lotte Shopping Co. to enhance transparency. The chairman has a strategy to enhance group transparency and become a better corporate citizen, it said.
As to Dong-joo, his strategy centers around Lotte Holdings Co., the closely held Tokyo-based company that owns about 99 percent of Hotel Lotte Co., which in turn controls the conglomerate's scores of businesses in Korea. He argues that the best way to improve the group's governance issues would be a public share sale of the holding company.
Dong-joo commands 33.3 percent of votes at Lotte Holdings, theoretically giving him a larger say than the 22.3 percent directly controlled by the Japanese executives. But there is also a 31 percent block of shares owned by 130 employees that is represented by a single union delegate who's been siding with Dong-bin. Should the delegate's vote be broken up, Dong-joo said he could get the majority he needs.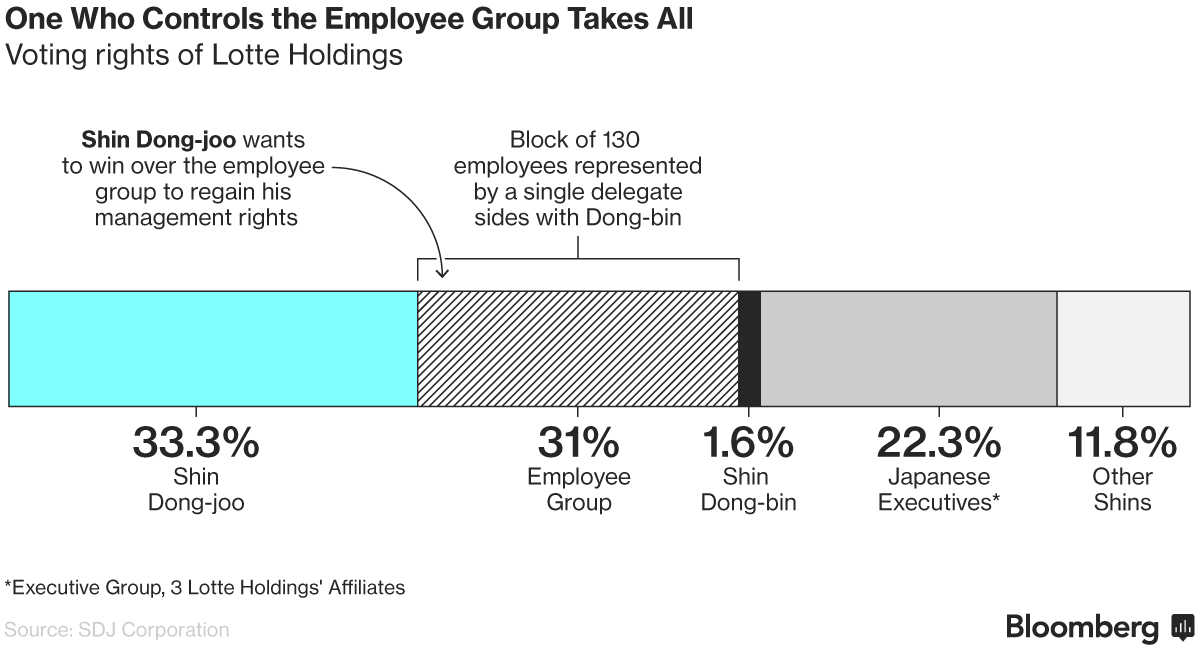 Dong-joo declined to specify how he'd change the employee voting system, which was set up by his father decades ago, but said there are legal steps that his team is working on. His supporters include Min Euoo-sung, 62, the former Korea Development Bank chairman who placed a failed bid for Lehman Brothers Holdings Inc. before its bankruptcy, and Cho Moon-hyun, an attorney at DW Partners.
Lotte said the employee union sided with Dong-bin in light of his managerial skills, while Dong-joo should be ashamed of losing the support of the Lotte Holdings staff. Union representatives weren't available to comment.
Dong-joo says his brother is only a pawn in a battle being controlled by Tsukuda and Kobayashi. As he tells it, the majority of votes at Lotte Holdings are effectively controlled by the Japanese executives as his younger brother only holds 1.6 percent of the voting rights.
"They can fire my brother anytime," Dong-joo said. "My brother's position is not stable."
While the brothers' feud rages, Lotte is facing other crises.
Corruption Indictments
In October, South Korean prosecutors indicted five members of the family, including both brothers and their father, after a four-month investigation, accusing the Shin clan of engaging in financial crimes amounting to almost 280 billion won. Dong-joo was also charged with embezzling 39 billion won, which he denies. Lotte Group said most of the allegations against his brother, Dong-bin, involve events during the time their father was running the group. Other family members could not be reached for comment.
Separately, Dong-bin had to answer allegations from parliament, along with other chaebol leaders, that Lotte and the other big business groups gave bribes to foundations controlled by Choi Soon-sil, the confidante of impeached Korean President Park -- accusations Dong-bin and Lotte Group deny.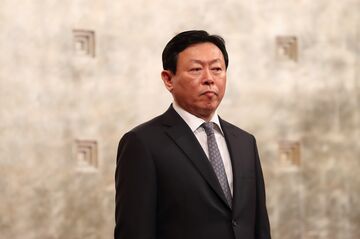 The scandals have taken a toll on Lotte's businesses. The company scrapped a potential $4.5 billion initial public offering of a hotel unit and withdrew a multi-billion-dollar bid for chemicals-maker Axiall Corp. Prior to its deals freeze, Lotte was the most active Korean conglomerate in terms of mergers and acquisitions over the past six years, according to corporate watchdog CEOScore.
For Dong-joo, the crises at Lotte are representative of what he says are management's missteps. He says he has a message for his estranged brother, with whom he hasn't spoken in months.
"You'd better apologize to my father and come back to Shin family,'' Dong-joo said. "As a family, we should be united.''