Mini-shootout: $900 smartphone vs. $3,000 DSLR, round three
Lee Hutchinson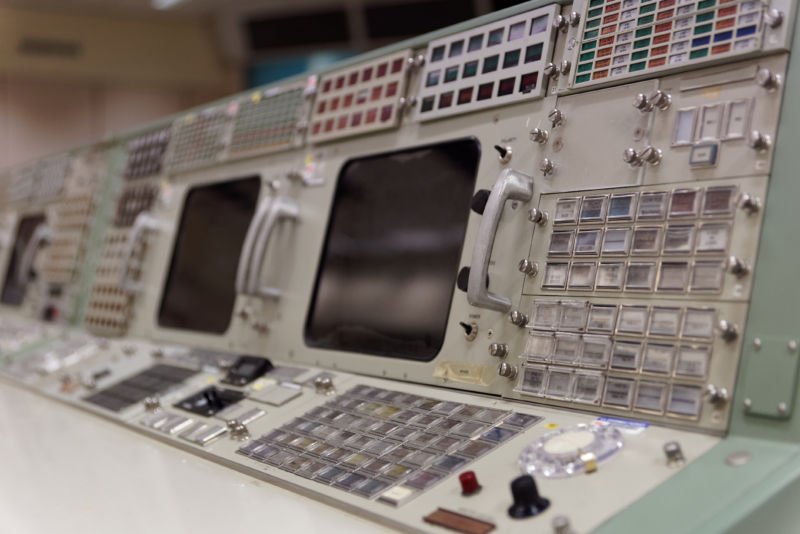 For the past two years, we've had essentially the same two takeaways: first, that smartphones take pretty solid pictures when the lighting is good; second, I am a crap photographer and we need to hire someone who knows how to compose a scene if we're going to keep doing these.
We also tried hard to find interesting environments to shoot and wound up at some neat places—inside NASA's Apollo mission control center, deep underground in a forgotten cistern, and behind the scenes at a local network TV station control room. The idea was to gather shots in several distinct environments: very low light, normal low indoor light, and bright outdoor sun. We also constructed a few shots specifically to show off the iPhone 7 Plus' dual-camera "zoom" feature, along with its software-based background blur bokeh function.
A note on goals
The idea, as with past tests, was to shoot the same scenes with both a smartphone and a DSLR and then compare the quality of the output. As with all past tests, the DSLRs tend to come out on top—but the thing we're really looking at is how close the smartphone comes to equaling the DSLR. And, as with past tests, there are a number of areas where the smartphone looks pretty damn good.
Nobody—except possibly Apple's marketing department—claims that smartphones are better than DSLRs. However, phones long ago left "good enough" territory; images produced by a modern smartphone like the iPhone 7 Plus or Google Pixel can be flat-out excellent when the images are constructed to play to the smartphones' strengths. Conversely, throwing money at a DSLR and lenses and speedlights won't automatically mean you produce amazing images—the picture-taker's ability to compose the shot is still overwhelmingly important.
The gear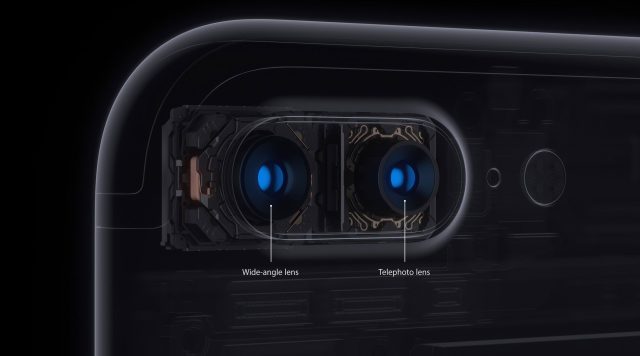 Still, the Pixel's camera looks intriguing, and now that the Pixel is widely available—which it wasn't when we took these shots a few months back—we will include it in our next roundup, coming in the first half of 2017.
Scenario 1: Very low light
The cistern is fully enclosed and dark, with light coming from red exit signs and dim orange overhead bulbs. The ledge that circles the space has been reinforced and made safe for the public, but it's still a fascinatingly creepy vault. Concrete columns rise through the center of the space that was once filled with water; sounds echo for almost thirty seconds. A few people murmuring produces an oddly unsettling aural effect, as if a vast multitude was conversing just behind the rough concrete walls.
Scenario 2: Normal indoor light
We could shoot indoors anywhere, but with the Johnson Space Center just a few minutes away, why not feature someplace worth seeing? JSC's Public Affairs Office was happy to let us use the restored Apollo Mission Operations Control Room #2 (MOCR 2) on the third floor of Building 30 to take some indoor shots.
Most of the consoles at this point sport a mix of Shuttle- and Apollo-era control panels, and none are in an original flight configuration (which varied from mission to mission anyway). Still, the knobs and buttons proved as irresistible as ever; while Jay tirelessly set up and shot pictures, I chatted with our PAO representative and idly toggled switches on and off. The buttons are heavy and chunky, requiring several pounds of pressure to depress, and they all make the same metallic "CHUNK" when engaged.
Jay also did some additional indoor comparisons at the Channel 13 studio in Houston, snapping images of the control room and main anchor desk.
Scenario 3: Outdoors
The Buffalo Bayou park area of Houston provided excellent fodder for full-sun outdoor shots, with enough visually interesting buildings to make for some good comparisons.
As with most smartphone cameras, the iPhone 7 Plus camera is at its best when it has lots of light to work with. The images produced are indistinguishable at a quick glance from the DSLR images.
Scenario 4: Zoom and portrait bokeh
The last set of images compares the zoom and portrait mode functionality of the iPhone with that of a DSLR. The big takeaway here is that the DSLR, with its multitude of lenses and fine control over settings, provides a tremendous amount of flexibility in framing and shooting portraits. Tight manual control over the depth of field coupled with a large lens means you can choose to zoom on objects and still shoot them with a blurred or unblurred background, depending on how you set your F-stop, whereas the iPhone has to use software trickery and produces a much less pleasing blur. The images from iPhone's zoom lens are also not super great—though they are unquestionably superior to the digital zooms of the past.
The art of good enough
This year's shootout comes to essentially the same conclusion as the last: a high-end smartphone camera can under many circumstances produce images that are as good as a DSLR's images. But "many circumstances" doesn't mean "all the time," and if you're going somewhere specifically to take pictures, you'll still want a high-quality standalone camera.
On the other hand, state-of-the-art smartphone cameras have for years now been good enough to use for basically everything, and the iPhone has the advantage of being on you all the time. The best camera, as they say, is the one you have with you, and an Internet-connected smartphone remains the easiest way for just about anyone to take a picture of a thing and then share that thing with the world.