Trump Is Causing a Rare Trend in Commodities


One of the fundamental dynamics of commodities markets has being turned upside down, thanks in part to Donald Trump.
Industrial metals prices and the dollar are rising in tandem on expectations that U.S. economic growth and inflation will accelerate during Trump's presidency. Usually, they move in the opposite direction as the dollar's strength makes commodities, which are mostly denominated in the currency, more expensive for buyers outside the U.S.
The trend is so rare that it's only happened a handful of times in the past decade, and it's one of the many reasons that mining companies such as Glencore Plc are rebounding. The commodities giant is benefiting from lower costs and higher metal prices at its zinc operations, and is on track to resume paying dividends next year as part of a broader turnaround plan.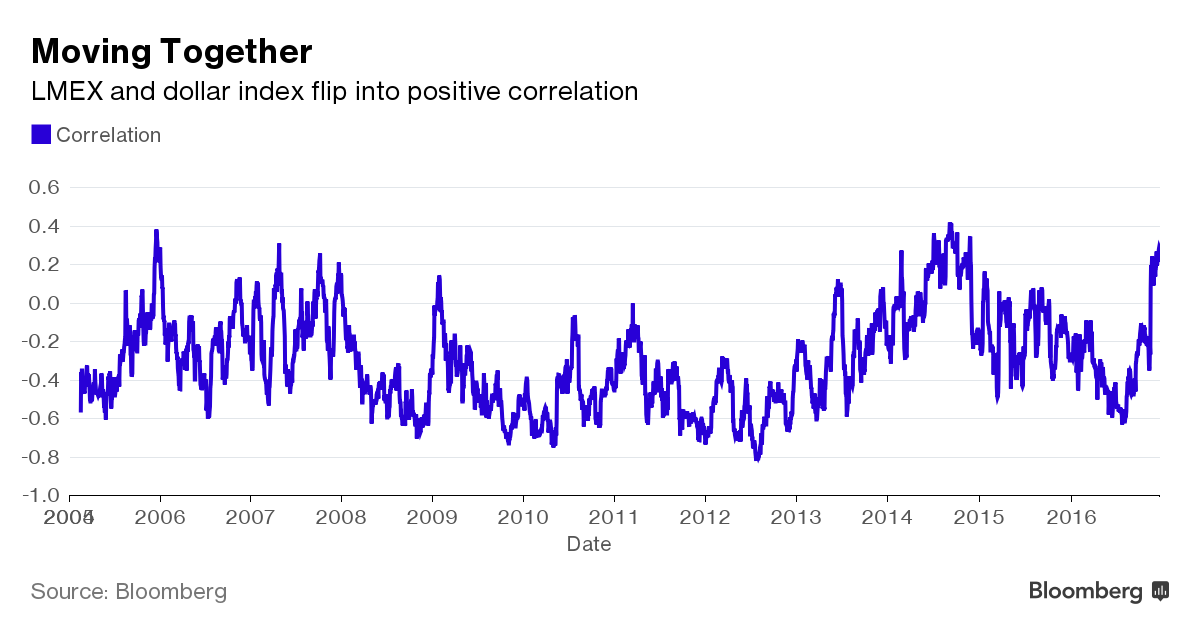 "Post-election, we've seen markets rotate away from defensive investments, seeking growth," Tom Price, a metals analyst at Morgan Stanley in London, said by phone. "The U.S. dollar's lifted, and so has demand for dollar-priced assets like commodities."
The Federal Reserve said on Wednesday that inflation expectations have tightened and conditions in the labor market are strengthening. U.S. President-elect Trump has pledged to enact growth-fueling tax cuts and infrastructure spending after being sworn into office.
Another factor: Chinese investors are buying dollar-priced commodities like copper and zinc as a hedge against yuan depreciation, strengthening the correlation between metal prices and the dollar, JPMorgan Chase & Co. analysts said in a Dec. 2 note.
Metals-Dollar Link
The LMEX Index of metals jumped 12 percent in November, the biggest gain in six years, and prices have fallen slightly this month. Metals broadly declined on Friday, with copper sliding 1 percent in London to $5,671 a ton.
By comparison, the Bloomberg Dollar Spot Index added 3.9 percent last month, reaching the highest level in more than a decade.
The 30-day correlation coefficient between the two indexes is 0.29. In July, it was negative 0.6, data compiled by Bloomberg show.
The dollar's strength translates to weakness in currencies such as the Chilean peso and South Africa rand, reducing the cost of labor and power for miners. At the same time, they earn dollars for the products they sell.
To see how this affects miners' bottom line, look at zinc. Futures on the metal have soared 74 percent this year, notching the biggest gain in the Bloomberg Commodity Index. At the same time, mining companies are seeing expenses plummet due to cost-saving measures and currency weakness in countries such as Kazakhstan and Peru.
Improved profitability would normally encourage miners to reach for their shovels, but it takes time to begin operations and several large zinc mines were closed last year. Glencore has pledged not to restart mothballed mines until it's confident that more supply won't drive down prices.
Zinc's supply shortage will support prices if Trump's economic policies disappoint or Chinese regulators restrict speculation in metals markets, Molly Shutt, an analyst at BMI Capital in New York, said by phone.
"Right now, there's so much frenzied excitement around zinc, and it probably has a bit further to run," Shutt said.