A history of the Amiga, part 10: The downfall of Commodore
Jeremy Reimer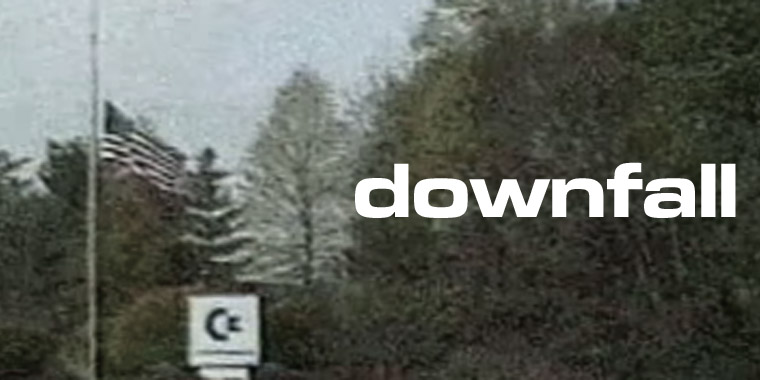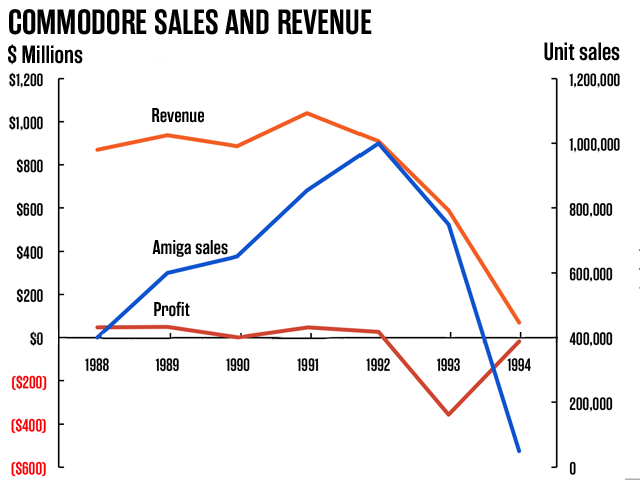 What went wrong
Why did this happen? Was it inevitable, or could the company have made different choices and kept both itself and the Amiga platform alive and healthy?
But is the survival of more than two computing platforms an ironclad law of technology or just a coincidence? There are exceptions—game consoles went through two separate generations with three viable competitors: Nintendo, Sega, and Sony in the 1990s, and Nintendo, Microsoft, and Sony from the 2000s until present-day. In addition, a declining market share is not irreversible. The Macintosh, after hitting a low of under two percent in 2003, has since rebounded to a healthy 7.5 percent. Could a trio of PCs, Macintoshes, and Amigas have coexisted in an alternate universe?
I think so. Saving the Amiga wouldn't have been easy, but it definitely was possible. Ultimately, the failure rests with Commodore management, who not only failed to adapt to a changing marketplace, but in many cases were actively hostile to their own company. To understand what they did and why they did it, we have to jump far back in time—to the creation of Commodore itself.
Jack Tramiel sells his soul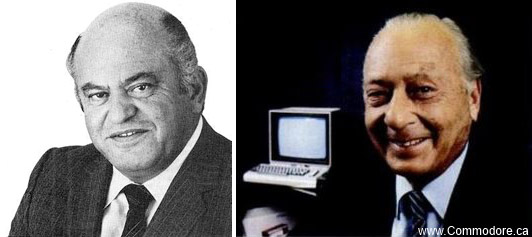 Irving Gould was a jet-setting man who didn't like to spend a lot of time managing the company, preferring instead to let Tramiel handle the day-to-day operations while he took care of the finances. For a while, this strategy worked well. The purchase of MOS Technologies (the company that made the legendary 6502 CPU that powered most 8-bit computers), the release of the PET, and the success of the VIC-20 and Commodore 64 all happened during this time.
However, Gould grew increasingly intolerant of Tramiel's one-man management style. Tramiel also said that he wanted to issue more stock to pay off Commodore's massive debts, but Gould refused, arguing that it would weaken his hold on the company. What Gould didn't say was that much of Commodore's debt was to other companies that Gould also controlled.
Gould then arranged to force Tramiel out of his own company while forming a series of increasingly flimsy excuses: first that although Jack had brought the company to its first billion in sales, he wasn't the one to get them to ten billion. Then, he believed that Jack was trying to position his sons to take over the company.
Gould was out of his element, so in 1986 he turned to what many incompetent and desperate managers utilize: a management consulting company. The company he hired, Dillon-Read, sent over a managing director named Mehdi Ali. Ali spent many years and many millions of dollars to come up with the recommendation that Gould should hire Mehdi Ali to be the new CEO of Commodore International, which Gould finally did in 1989. This was the exact moment when Commodore sealed its doom.
Mehdi's mistakes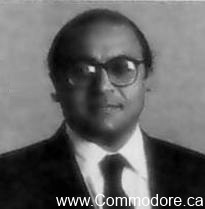 But the greatest harm that Ali inflicted on Commodore was selling its future. Over the years, he continued to gut R&D funding until there was almost nothing left.
The coming DOOM
The ECS Amiga chipset could theoretically display 4,096 colors simultaneously in HAM mode, but this mode was too slow for action games. Amiga games typically used 320x200 resolution in 32 colors instead.
Planar access divides up color bits among several "planes"—think layers in Photoshop—that can be accessed separately. In the days before 256 colors, this saved huge amounts of video RAM, which was at a premium. When combined with chips like the blitter, it also made it really easy to create side-scrolling arcade games with multiple "parallax" layers that moved smoothly at different speeds. The PC architecture, even with the new VGA cards, had a difficult time doing this.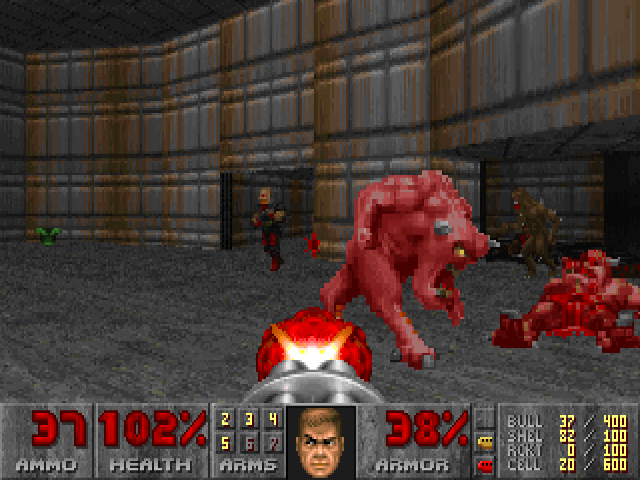 The CD32
The CD was invented as a digital audio storage format in 1982 in a collaboration between electronics giants Phillips and Sony. It took the music world by storm, and in 1984 Sony and Denon demonstrated the first CD-ROM, which gave a personal computer a read-only storage capacity of 540 megabytes. As most games were distributed on floppy disks of a single megabyte at the time, this was a ludicrous amount of storage, and companies struggled to come up with ideas for new types of content and hardware to play it on.

This device would be a game console, pure and simple. Commodore attempted to one-up Sega (who had struggled with the Sega CD add-on to the underpowered Genesis) by designing the console to look very similar to a Genesis, but with "32-BIT" replacing that system's "16-BIT" designation in proud white letters. Inside was essentially an Amiga 1200 with a CD-ROM drive and a new chip called "Akiko" that added MPEG 2 movie playback and chunky-to-planar graphics conversion.
Still, the CD32 was a very respectable game machine for its time, and it was scheduled to be released before Christmas 1993 for $399. Unfortunately, Commodore had run out of time and money.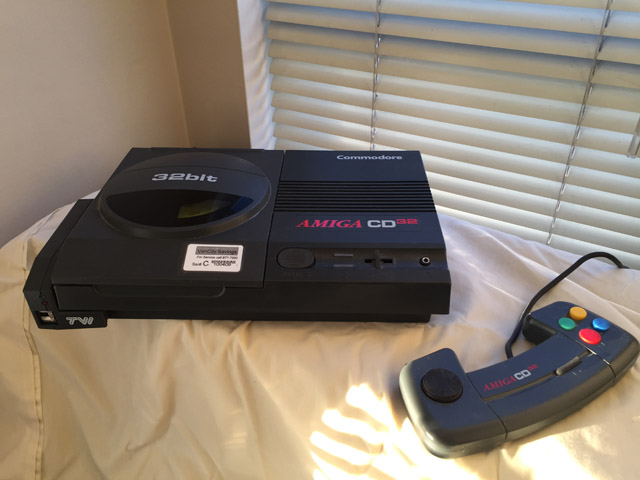 Death by XOR
The CD32 sold all 100,000 units in Europe and Canada, but Commodore had no money to make any more. The market for the consoles collapsed after Commodore's liquidation, but some of them found some innovative uses: for example, a company in Vancouver created the first online banking application for Vancity using CD32s and custom-built add-on modems.