Asus takes on Raspberry Pi with 4K-capable Tinker Board
Mark Walton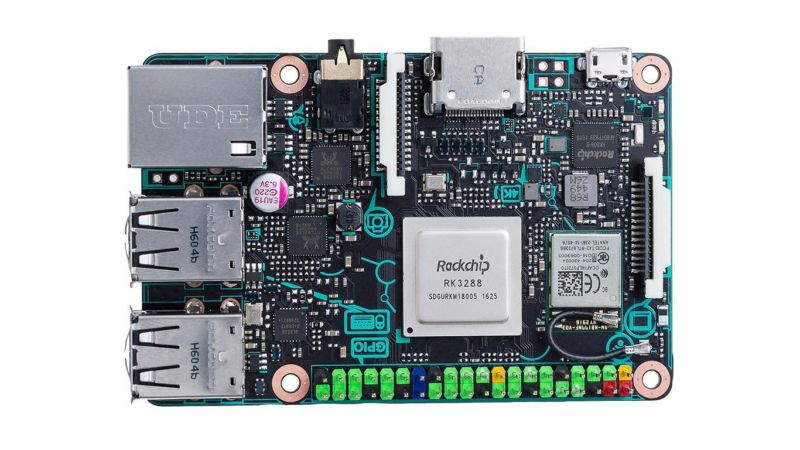 Tech giant Asus is taking on the Raspberry Pi with its own DIY-friendly single-board computer that's said to offer 4K video playback and 24-bit audio support in exchange for a hefty £55 price tag.
Dubbed the "Asus 90MB0QY1-M0EAY0 Tinker Board," or (thankfully) the "Tinker Board" for short, the 8.5cm by 5.3cm computer features a quad-core Arm Cortex A17 CPU running at 1.8GHz, ARM Mali-T764 GPU, and 2GB of DDR3 memory. The most recent revision of the Raspberry Pi, the
Raspberry Pi 3 Model B
, sports a 64-bit Cortex A53 quad-core processor. The A17 in the Tinker Board only supports 32-bit instructions.
However, the Mali-T764 GPU inside the Tinker Board is more powerful than the Broadcom VideoCore IV inside the Pi 3. There's hardware support for H.265 4K decoding instead of just 1080p, and Asus claims it pulls in almost double the benchmark score in Geekbench, which should equate to better 3D performance. Other niceties include gigabit Ethernet, support for SDIO 3.0, and swappable antennas for the built-in 802.11 b/g/n Wi-Fi module.
Both single-board computers are almost exactly the same size, and at first glance it appears that the GPIO pins and mounting holes are in the same positions, suggesting the Tinker Board wants to be a drop-in replacement for the Raspberry Pi.