Feds sue Qualcomm for anti-competitive patent licensing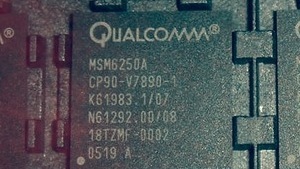 Qualcomm is a major supplier of baseband processors, and it also licenses patents that it says are essential to widely adopted cellular standards. According to the FTC complaint, Qualcomm won't sell baseband processors unless a customer takes a license to Qualcomm's standard-essential patents, on Qualcomm's terms. And Qualcomm has refused to license its standard-essential patents to competitors, which the FTC says violates Qualcomm's commitment to license on a "fair, reasonable and non-discriminatory" or FRAND basis. Agreeing to FRAND licensing terms is required by the standard-setting organizations to which Qualcomm belongs.
According to the FTC, Qualcomm has also made exclusive deals with Apple that exclude competitors and harm competition.
"By using its monopoly power to obtain elevated royalties that apply to baseband processors supplied by its competitors, Qualcomm in effect collects a 'tax' on cell phone manufacturers when they use non-Qualcomm processors," write FTC lawyers. "This tax weakens Qualcomm's competitors, including by reducing demand for their processors, and serves to maintain Qualcomm's monopoly in baseband processor markets."
The complaint, filed in federal court in San Jose, also says that when Apple "sought relief from Qualcomm's excessive royalty burden," Qualcomm laid out a condition—that Apple would exclusively use Qualcomm baseband processors in their products from 2011 to 2016. That denied anyone else who made baseband processors the chance to work with Apple, "a particularly important cell phone manufacturer."
"The complaint fails to allege that Qualcomm charges more than a reasonable royalty," writes Commissioner Ohlhausen. "That pleading failure is no accident; it speaks to the dearth of evidence in this case."
The complaint comes just as FTC chairwoman Edith Ramirez has said she will step down in February. President-elect Donald Trump will have three vacancies to fill on the Commission. Under a Republican president, the FTC is expected to include two Democrats and three Republicans, since no more than three commissioners can be from any single party.
"This is an extremely disappointing decision to rush to file a complaint on the eve of Chairwoman Ramirez's departure and the transition to a new Administration, which reflects a sharp break from FTC practice," said Qualcomm General Counsel Dan Rosenberg. "We look forward to defending our business in federal court, where we are confident we will prevail on the merits."
Feds sue Qualcomm for anti-competitive patent licensing
Reviewed by
Bizpodia
on
21:45
Rating: