LG threatens to put Wi-Fi in every appliance it introduces in 2017
Andrew Cunningham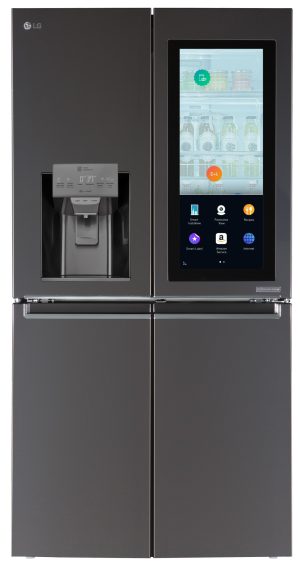 Alexa isn't an inherently bad fit for a refrigerator, which like the Amazon Echo itself can just sit in the corner of your kitchen awaiting your command. The main problem there is that LG hasn't announced how much this fridge will cost; it's almost certainly going to be more than the cost of adding an Amazon Echo to your current kitchen setup or even the cost of an Echo plus a new dumb fridge that just sits there and keeps food cold without connecting to your network. Other potentially useful additions include "stickers and tags" you attach to specific items in the fridge to denote what food is stored where and when it expires, which lets the fridge generate alerts when foods are close to spoiling. A wide-angle camera mounted inside the fridge lets you look inside your fridge remotely just in case you think you left something off your grocery list.
Things veer off track when you start talking about the fridge's other features. For instance, you can tap twice on its 29-inch 1080p touchscreen to turn the screen "transparent" and see what's in your fridge, something that would normally require grabbing the handle of the fridge and applying an amount of force sufficient to open the door. That the fridge is powered by webOS also opens it up to Internet browsing and apps, just in case the experience of standing in front of your regular fridge with a phone or tablet isn't enough.
But anyway, have fun ordering groceries by yelling at your fridge.