SpaceX is about to launch one of its final expendable rockets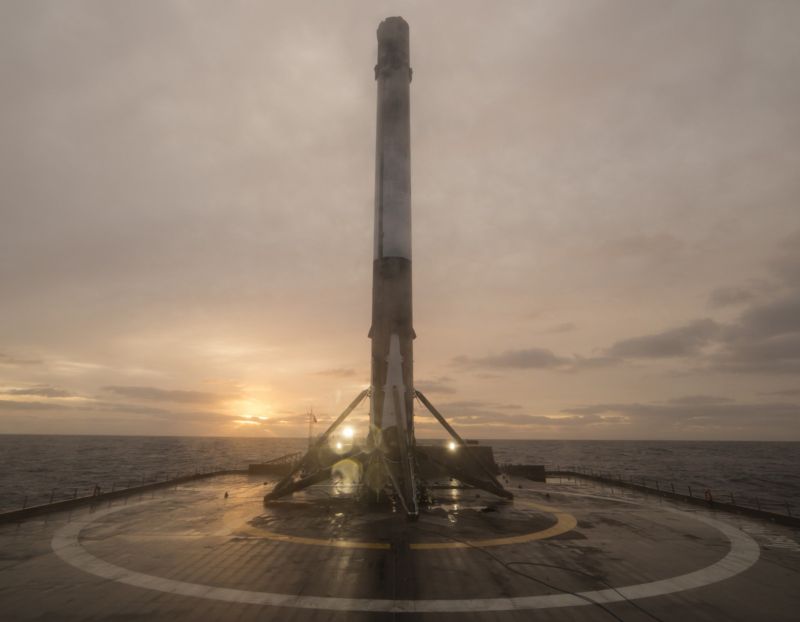 This is a heavy satellite, weighing 5.5 metric tons, and getting it out to about 40,000 kilometers from the surface of the Earth will require pretty much all of the lift capacity of SpaceX's Falcon 9 rocket. This would leave almost no propellant for the Falcon 9 rocket to fire its engines to slow down, make a controlled descent through the Earth's atmosphere, and attempt a difficult landing on a drone ship.
Falcon 9, Block 5
In many ways SpaceX has acted more like a startup company than a traditional aerospace company, and as such it has constantly been tinkering with the design of the Falcon 9, seeking to improve its performance. Unofficially, there have been at least four versions of the Falcon 9 booster—the Falcon 9 v1.0, Falcon 9 v1.1, Falcon 9R v1.1, and Falcon 9 Full Thrust. First flown in December, 2015, this last variant included and updated Merlin-1D rocket engine and used chilled, densified propellant. Combined, the rocket and propellant add about 30 percent to the lift performance of the previous Falcon 9.
Easy reuse?
The latter point is potentially significant, given that in the near term one of SpaceX's primary goals is to simplify the reuse of its rockets. With seven first-stage booster landings at sea and on land, SpaceX has now shown that it can bring rockets home. The big question remains whether it has the capacity to refurbish those rockets on a timely and cost-effective basis before flying them again.
It now seems likely that SpaceX will fly the landed boosters it currently has, at most, once or twice, before retiring them, instead of multiple times. Although the company hasn't elaborated on the problems with the engines, booster structure or composite materials that has challenged their attempts to re-fly its Falcon 9 first stages, Musk seems confident that changes to the Block 5 version of the rocket will solve the problem. "I think the F9 boosters could be used almost indefinitely, so long as there is scheduled maintenance and careful inspections," he said in his AMA.
SpaceX is about to launch one of its final expendable rockets
Reviewed by
Bizpodia
on
04:10
Rating: