Widely used WebEx plugin for Chrome will execute attack code—patch now!
Dan Goodin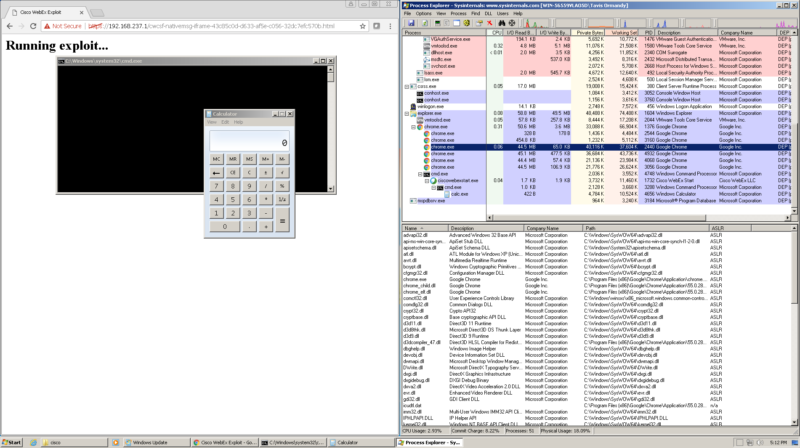 The Chrome browser extension for Cisco Systems WebEx communications and collaboration service was just updated to fix a vulnerability that leaves all 20 million users susceptible to drive-by attacks that can be carried out by just about any website they visit.
Martijn Grooten, a security researcher for Virus Bulletin, told Ars:
If someone with malicious intentions (Tavis, as per Google's policy, disclosed this responsibly) had discovered this, it could have been a goldmine for exploit kits. Not only is 20 million users a large enough number to make it worthwhile in opportunistic attacks, I assume people running WebEx are more likely to be corporate users. Imagine combining this with ransomware!
Some critics also faulted the fix for providing a less-than-clear warning message when WebEx-enabled browsers visit sites that load the magic string. The warning reads: "WebEx meeting launcher needs to launch a WebEx meeting on this site. WebEx meeting client will be launched if you accept this request." The message then gives users the option of clicking Cancel or OK.
In an e-mail, independent cryptography and security researcher Aaron Zauner provided this technical analysis:
The extension has its own sort-of-an API and passes JSON messages between the extension, the website where the WebEx session is supposed to happen (e.g is embedded into the website), and native browser code (i.e.Chrome). As Tavis [Ormandy] notes, the extension passes a lot of properties about the session along, many of which seem security sensitive and may be able to allow for attack vectors. One of these properties seems to have its own scripting language (Tavis's words) and thus allows interaction with native code. The extension ships (at least parts) of Microsoft's C runtime and thus gives an attacker the possibility to call C functionality by just passing JSON properties/objects. An exploit may be a simple webpage with JavaScript code in it. Having the WebEx extension in chrome installed—an attacker may point the victim to such a website and run arbitrary code or start programs, delete files et cetera on the victim's computer.