Ajit Pai on net neutrality: "I favor an open Internet and I oppose Title II"
Jon Brodkin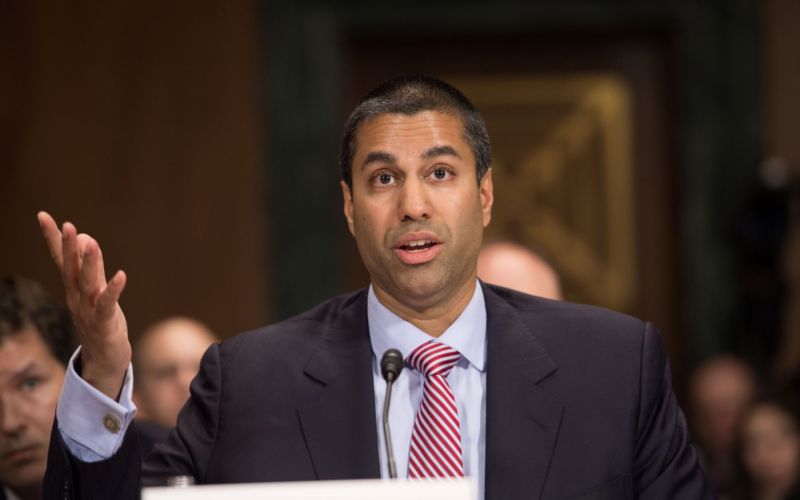 Ajit Pai today presided over his first Federal Communications Commission meeting since being named chairman by President Donald Trump, and he promised that the FCC will eliminate regulations under his leadership.
He also said that consumer protection and enforcement are important priorities for the commission—but he wouldn't comment about whether he'll enforce the existing net neutrality rules.
But for now, Pai is not saying whether the commission will continue to enforce the core net neutrality rules that prohibit Internet providers from blocking or throttling traffic or giving priority to Web services in exchange for payment.
"Beyond that [transparency rule exemption for small ISPs], I'm not going to comment on what steps we may or may not take on enforcement," Pai said in response to a reporter's question.
Pai was asked the question by two other reporters and continued to decline comment. "Again, we haven't made any determinations at this time," Pai said. "I think the issue is pretty simple. I favor a free and open Internet and I oppose Title II. That's pretty much all I can say about that topic."
When asked today if he intends to reverse the Title II reclassification, Pai said, "We have not made any determinations at this time." Of course, Pai has already made his preference to overturn Title II clear, so it may just be a matter of time before he's ready to make a specific proposal. Congress could also eliminate the Title II classification of ISPs.
Enforcement still important—for robocalls
Despite not pledging to enforce net neutrality rules, Pai said that "enforcement is a critical priority for this commission" and that "consumer protection is an area that I have taken a great interest in." He pointed out that robocalling is the top source of complaints to the FCC and said he intends to "find ways to make sure consumers are protected from that scourge."
"More generally, my philosophy on enforcement is simple," Pai said. "You follow the law, you make a diligent search for the facts, and in your review of the law and the facts, take the appropriate action that is necessary to protect the public interest."
Eliminating regulations
The other eliminated rule required cable companies to "maintain and allow public inspection of the location of a cable system's principal headend." Going forward, the headend information will instead be available to the FCC, TV stations, and franchisors upon request. Cable companies can make the information publicly available in the FCC's online database, but they won't be required to.
In his press conference, Pai said this vote is just the first step toward his goal of "modernizing" regulations and "remov[ing] unnecessary or counterproductive regulations." Pai argues that removing regulations frees up money for ISPs to invest in building and upgrading networks.
The committee will focus on "further reforms to the FCC's pole attachment rules; identifying unreasonable regulatory barriers to broadband deployment; ways to encourage local governments to adopt deployment-friendly policies; and other reforms within the scope of the Commission's authority," the FCC said.