China's Investor Army Is Bracing for More Stock-Market Pain
Retail buyers make up about 80 percent of China's stock market

'This might be a chance for me to make more money': investor







China's stock sell-off the past month has hit shares traded on the mainland hardest, putting the individual investors that make up 80 percent of the market in the firing line for losses.

More than $250 billion has been wiped off the value of Chinese equities since April 1, as a drive to reduce financial leverage kicked into high gear with President Xi Jinping ordering a check of risks.

The flurry of regulation seems to have unnerved mainland investors more than those outside China -- big foreign names like Mark Mobius have lauded the initiative as a step toward a more mature market. The following is a cross-section of reactions from so-called retail investors in domestic shares.





Beijinger Xiao Xing may not have the portfolio of Mobius's Templeton Emerging Markets Group, but she does have more than 100,000 yuan ($14,500) invested in Chinese shares -- that's all the disposable cash she has.

The media professional, 32, had a rocky start to equity investing, entering the market in June 2015, a few days before a mass unwinding of margin trades contributed to triggering a slump that took about $5 trillion off Chinese stock values. She's "on high alert" this time, but signals confidence she can weather the storm.




"It feels like they want to curb risks just in case problems occur in the future, but they happened to have played it too big and investors got really scared," Xiao said in an interview via China's ubiquitous WeChat messaging app. "I've sold some shares during the decline and invested the money in some other companies. I'm not too anxious -- this might be a chance for me to make more money."

Other retail investors are also strategizing. Laurent Liu, 29, works in the telecommunications industry in Shenzhen. He has about 10 percent of his money invested in stocks, and says:

"What we are going through is a pretty mild version of the stock-market crash," he said.
"I feel some investors were shorting equities, but the 'national team' was not super keen on stepping in. I sold a small portion of my holdings, mostly in technology and new-energy companies. I haven't invested that money in anything else yet -- it's still in my account."
"I partly agree with the view that tighter regulation will be beneficial in the long run, but the prerequisite is that the measures don't deal too big a blow to the stock market."
"The market will enter a long, dormant period, as investors need to rebuild their confidence," he said.

Like Xiao, Liu sees a recent rebound in Shanghai-traded shares as just a short-term phenomenon. Indeed, those stocks slipped Tuesday amid a pullback in industrial companies.

Galant Jiang, 29, is a tech-support professional at a finance company in Shanghai:

"The recent decline was a result of some investors taking the chance on tighter regulation to sell companies with price-to-earnings ratios that were too high."
Jiang didn't sell any of his holdings as he thinks "regulation will benefit the market in the long run."
But that doesn't mean he's optimistic: "The recent advance will not last, then the equity market will likely fall further as investors are pretty bearish."
"I'm optimistic in the long run, but not now."

For Nino Liu, 29, the recent sell-off is just something that just needs to be endured. The Nanjing native who works for a state-owned enterprise invested around 30,000 yuan in shares traded on China's ChiNext small-cap index. He says small-caps are "much more exciting"' and if you can stomach the swings can also provide bigger returns.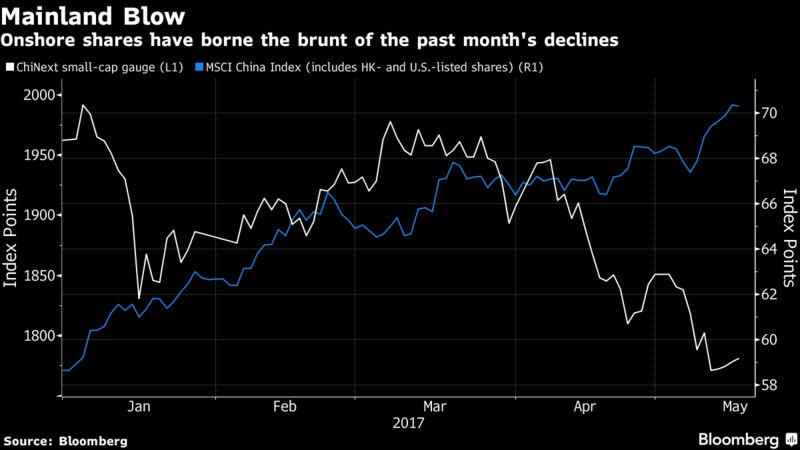 "I'm paying less attention to stocks now as prices have fallen to levels that I'm reluctant to sell at just to reduce my losses," Liu said.
"It's pointless to leave the market now, and I'm willing to swallow the bitter pill even if there's further declines ahead."
He's not worried, though, as "we've seen steeper and more drastic declines in China's stock market before. The government will step in anyway when its feels necessary, and it's a policy-driven market where my concerns won't make a difference,"
"I'm used to it, but for new investors, this may be a lot to take in."

— With assistance by Tian Chen, and Amanda Wang


https://www.bloomberg.com/news/articles/2017-05-16/china-s-investor-army-is-bracing-for-more-stock-market-pain